Those of you who have used Mocavo for your research may find this article interesting. It is a reprint of a recent post in
GenealogyInTime Magazine
.
Mocavo Website Shuts Down
The Mocavo website has shut down. Mocavo was an ancestral search engine. It was backed by a firm based in Boulder Colorado. They launched with great fanfare in March 2011.
Mocavo started out as a free search engine. Their original platform found free genealogy records available on the internet. By the end of 2011, however, they began the switch to a subscription model. Apparently, the increase in subscription revenue was not enough to sustain the company. In May 2012 (just 14 months after launch) they received $4.1million in venture capital money to help expand their operations.
Mocavo used some of the funds to buy a small scanning company. They started scanning and putting online some unique records. In particular, they started putting online US high school yearbooks at a time when there were not many available on the internet. They also expanded to a full subscription model at around the same time.
Although Mocavo had some initial success, they were never able to gain the traction needed for a company funded by venture capital. In particular, their rankings over the years in the Top 100 Genealogy List showed that they were never able to break into the top ten (the Mocavo rankings were 2012 #45 | 2013 #25 | 2014 #28 | 2015 #20 | 2016 #32).
Mocavo was eventually purchased by FindMyPast in June 2014. Presumably they were interested in Mocavo's search technology. FindMyPast has now decided to fold Mocavo into the FindMyPast website. This is a common approach in the genealogy industry when a large company buys out a smaller competitor. Eventually they tend to shut them down. Here is the
official announcement
.
We always viewed Mocavo as a bit long on promise and a bit short on delivery. When they launched in March 2011 they also claimed to be the first large scale ancestral search engine on the internet. That was not quite true. For example, we had launched our own Genealogy Search Engine in January 2011, about two months prior to Mocavo. What they had done is launch a website with some unique search technology, which has now been folded into FindMyPast.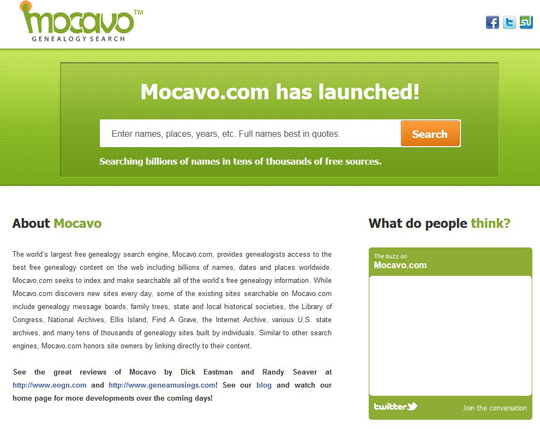 This is what the Mocavo website looked like when it first launched around 21 March 2011.